So you want to build a website? You may only be thinking about images, copy and your domain, but a key component of your new website is your Content Management System (CMS).
In this blog, we are going to go through two popular CMS: WordPress and Drupal.
What is a CMS?
A content management system is a software application that can be used to manage the creation and modification of digital content.
A CMS makes it easy for you and your team to update content and images on your website with little to no coding experience.
Managing and updating your website in-house is incredibly empowering!
WordPress vs. Drupal
WordPress
WordPress (WP) is a simple, popular open-source CMS that powers over 30% of all the websites on the Internet.

Free to use, WordPress is supported by a community of developers and it integrates well with most third-party systems and tools.
WordPress allows you to manage your site by yourself and make changes as required. However, WordPress requires constant management because it has a number of security vulnerabilities and plugins are often needed.
Third-party Themes and Plugins
Want a slide-show? Add an Instagram feed? Have a video you'd like to play? These are examples of features that can easily be added with a plugin for WordPress.
A theme is a collection of templates and stylesheets that allow you to easily design your website without the help of a graphic designer.
Thanks to its open-source community of programmers, WordPress's designs, features and functionality are always expanding.
WordPress Pros and Cons
Pros
Flexible and adaptive
User-friendly
Liked by Google
WordPress sites tend to rank higher because they are constantly being updated and are easily optimizable for SEO using integrated tools and plugins
Mobile responsive right out of the box
Built-in blog platform
Open source, built and supported by a large community
Designed with minimal code, which means quicker page load speeds
Lower development costs because of more out of the box options
Cons
Security has been an issue in the past
Frequent updates to the CMS and plugins
Coding required when very customized
Some notable sites built on WordPress: TechCrunch and Snoop Dogg's website!
Drupal
Similar to WordPress, Drupal is a free, open-source content management system.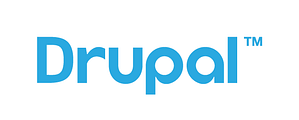 It provides a back-end framework for 1.7% of all websites worldwide, Drupal sites range from personal blogs to corporate, political, and government sites.
Unlike WordPress which uses plugins, Drupal uses modules that extend and customize its functionality. Drupal is sometimes considered more secure, but it is a little more complicated than WordPress.
Drupal has a built-in access control system that allows you to create new roles with individual permissions, a feature that WordPress doesn't have.
Drupal Pros and Cons
Pros
Very secure
Multi-lingual functionality out of the box
SEO-friendly
Taxonomy system to handle a lot of data
Responsive by default
A large community of developers
Cons
Not as user-friendly as other platforms
Steep learning curve
Major updates are harder to implement
Needs advanced programming knowledge
Lower performance than other content management systems
Some notable Drupal sites are the NCAA website and Tesla!
Schedule a Free 30-minute Consultation!
Lets discuss which CMS is the best for your organization and team!
Building a WordPress or Drupal Site with Digital Giants
We help you build it so they will come! As your new website is the core of your web presence, it should be versatile and effective.
Digital Giants works with both WordPress developers and Drupal developers and will help you determine which Content Management System is best based on your needs.
Collaborating with us leads to a website that is truly a reflection of your brand. With Digital Giants you get a unique site created by our expert web developers.
Learn more about our website development process and how we promise to create a website that builds your brand, engages your target market and ranks high on Google. And don't worry, we offer a variety of support packages if you need more or less help along the way.
From design through to post-launch, our goal is to delight you and your visitors along the way.