How does SEO help the growth of a small business? 
Search engine optimization, or SEO, is one of the best ways to improve your chances of appearing in the search engine results page (SERPs) when potential clients look for products and services exactly like yours. With a well-planned SEO strategy, you can reach your audience at different stages in their buyer journey. Creating well-optimized pages and content specific to your audience's challenges will allow you to increase your website traffic and conversion rates, boosting your organization's ROI. 

SEO builds brand awareness 

Content Marketing
Content marketing is one of the greatest ways of increasing awareness about your company or brand. By creating content that focuses on your audience's needs while being well optimized for search engines crawlers, you will reach more users and begin to grow awareness of your brand But, to do this well you will need to focus on the right keywords. 

Choosing Long-tail Keywords
Depending on where your user is in their buyer journey, their intent will be different. It is important to create content that addresses the different levels of intent correctly. 
There are four stages or levels of intent:
Navigational – The user wants to reach a particular site, person or brand. These are very specific and most look for a particular domain (Facebook, Twitter, Reddit, etc.)
Informational – The user wants to know something, often how, what, where, when, guides
Transactional – The user is ready to take action or ready to buy. Searches can contain " buy", "coupon", "price"
Commercial – The user is close to purchasing and are considering different options. They will use words such as "best", "review", "compare".
By creating content for these different levels of intent you will be able to reach your audience in a way you were not able to do so before. This allows you to increase awareness of your brand and reach new customers.

Focus on a Niche 
Depending on your products or services targeting a niche audience can work particularly well for small businesses. Through keyword research you can identify gaps or trends to gain an edge over your competition and create content to win them. Often, areas that have low competition will also have low difficulty and can be won easily. By doing this, you will reach your audience where no one else is and reap all the benefits. 

SEO can build trust and credibility
By achieving high rankings on the SERPs it can show users that you are a credible resource. When users go on your website and find helpful content they will start to consider you as a reliable source.
Creating content around your products and services, will help you to increase your search visibility around those topics. As your search visibility grows, your users will start to come across your content more often. When users find the exact content they're looking for on your website, they'll start to see you as an authority in your field.
This will also have the added benefit of gaining backlinks. As you become more of an authority on your chosen topics other websites may link to your content. These links will pass on domain authority or "link juice". The more "link juice" you have the stronger your domain is, and the higher you will rank in SERPs.

Good SEO provides a better user experience 
By focusing on the needs of the user and considering their intent, you will create a better user experience. This improves organic search performance and helps websites to rank well as Google considers user experience as a ranking factor. 
Google's algorithm has increasingly taken the user experience into consideration. The goal for Google is to provide the best result for the user's search. If your page delivers a great user experience, you will see improved rankings and more traffic which will lead to more conversions.

Natural Language 
Google's recent additions RankBrain and BERT are designed to better understand what people expect to see when they type a search query. They also help Google understand the content on the pages. As a result, Google is able to provide better results for it's users as it has developed a stronger understanding of what they need and what is on the web page.

SEO Creates Better Content
As SEO continues to evolve, we have seen a shift from simply optimizing a page for a keyword to creating a page and content for the user and their needs.
When planning out your content with SEO in mind, you should analyze the top three results and identify what content, questions, and format they are using. This will provide you with an idea of what Google and Users are looking for and start your content production off in the right direction. 
As a result, your content will address the needs of your audience well and in a format that is best for them. This creates an excellent user experience and will help you rise in search results. 

Organic search is often the primary source of traffic for your website
Organic search traffic is the users who come to your website from search engines such as Google. These users are actively searching for products and services that you provide. In most cases, this channel is the primary source of traffic for your website. 
Investing in SEO can grow this channel, increasing website traffic from a more qualified audience, increasing the chance of conversion. If you are a small business, a Local SEO strategy can increase your traffic, and conversions from those in your area. This is important for a small business because 88% of consumers who do a local search visit or call the store within a day.

SEO has long term results while providing a great ROI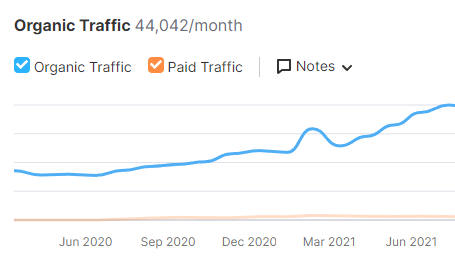 As we already know SEO can generate organic traffic which is qualified. When compared to other channels like advertising, you don't need to worry about the cost of each click and being outbid by competitors. Over time, the true power of investing in SEO is that it scales exponentially over time, every new piece of content you produce will hold a lasting, semi-permanent value for your brand in terms of web real estate, referral traffic, and domain authority.

SEO is Measurable 
One of the best things about SEO is the business owners can use the following metrics to assess whether SEO efforts are having an impact on the online business and tie it back to their investment. 
Rankings:

You can monitor your keywords in search to see if you are showing up in the search engine results pages

Search Visibility:

This indicates how often your domain is shown in search results for the keywords it's ranking for.

Organic Traffic:

Using a tool such as Google Analytics you can track organic search traffic and assess how your SEO efforts are contributing to your website

Branded Traffic:

As your presence grows in search, soi will your brand. Branded search is an excellent indicator of your brands growth.

Bounce Rate:

This metric measures the percent of your site visitors who bounced from your website without taking any action. Typically, for organic search a bounce rate of 40% – 60% is expected. A higher bounce rate can indicate that the page may not be relevant or there are user experience issues. 

Average Session Duration:

Tracking session duration, you can assess the quality of your site and understand whether you need to implement any changes into your site structure.

SEO Will Always be The King 
SEO has been around for almost 25 years and will continue to be around for the foreseeable future.  Here are 3 facts that prove SEO is king:
93% of online experiences

start with Google

or Bing

70% of clicks are to organic links 

75% of users don't go past the first page

Ready to get started with SEO? 
Digital Giants is currently hosting free strategy sessions to help organizations get started and grow their business online.