For some, building a brand new website from scratch may seem daunting. But fear not! We have a process that has helped our clients build beautiful and functional websites for more than a decade. 
Our goal with you is a seamless process from initial consultation to launch and throughout the life cycle of your site. 
Just like building a new home, a new website is not a DIY project. An experienced partner can help translate your vision into a beautiful design to create a functional high-performing, content-driven, optimized website. We are your architects and builders. 
Our website development process is a transformative and sometimes challenging project for many organizations. The process raises a number of questions about who you are as an organization and how you want to be found online. 
In our attention-deficit world, a well-designed site that communicates your value in seconds and helps shoppers find a solution to their challenges helps you drive them closer to an action.    Let's talk about how we do it.
The Website Development Process
From gathering initial information through to maintenance to ensure information is current,  there are numerous steps in the planning, design and development process. The exact process will vary, but we have a proven process to create glitch-free websites.
We've found our clients appreciate understanding the website development process we use when working on their websites. It gives them insight and enables them to plan and prepare content, images and related information. It also helps them allocate resources, such as money and time. 
Our proven 3 Part Process: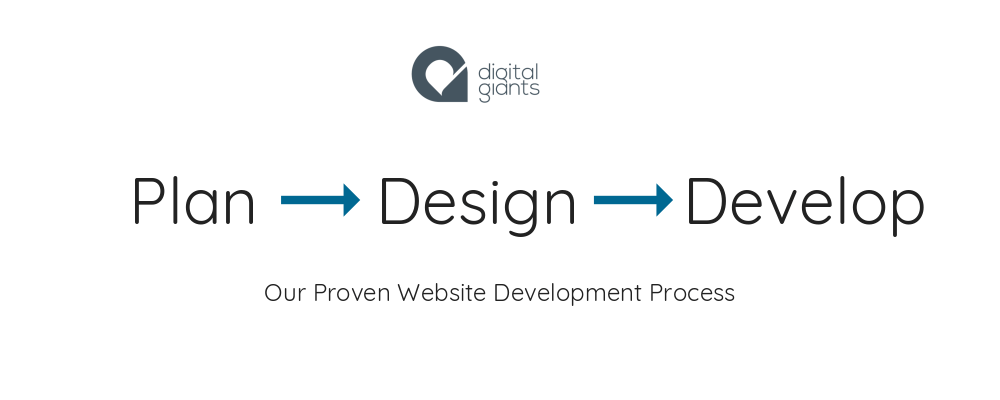 Strategic Planning
A session to help identify your business goals, objectives, and your target audience needs.  You begin with our handy questionnaire and at this session, we discuss your answers – and there are no wrong answers, just your unique ones!
We will meet with you and your team to finalize the website site map and review the content requirements for each page based on your buyer personas. The session will be interactive and the outcome will be a website brief to guide the design and development of the website. You will review the website brief and sign-off before we begin the design and development process. 
Website Design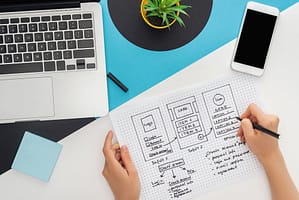 We will set to work sketching out interface layouts for different views, including for the outlined webpages; (eg. Home, About, FAQ, Programs/Services/Products, Contact) and integrate the images and text.
We will experiment and iterate on solutions quickly so that we have a good sense of how content should be laid out across different screen sizes. This is a critical step when you look at your audiences and how they access info on their desktop or mobile phones.
We recommend having all of your content ready by this stage, as it will help shape the design and make the loading of the initial content onto the development server quicker, so content doesn't hold back the launch. If you are not able to provide professionally written content, we can provide copywriting services. 
Next, we'll finalize designs so you can see what it looks like on desktop, tablet, and smart-phone screen sizes.
Website Development
Once the design phase — usually the longest phase of the project — is complete, we work on bringing your site to life. We will create the full site on a test server so that it can be fully approved before going live. 
In tandem, during the website development phase, we optimize your site for search so it will be easy for your customers to find you. We will conduct keyword research based on your business, products/services and what your target audience is searching for. We will work page by page, adding keywords, page titles, meta-descriptions and image alt-text. Finally, we will optimize your content.
We ensure that your website will work in all Grade-A browsers and it will be designed with responsive technologies so the site will function well on mobile devices. Finally, we check the entire website to make sure it is operating as expected across different platforms and devices.
Here's an example of how we work with you:
Plan
Kick-off meeting, review website goals and objectives, define audience personas and their needs, review project timeline and tasks, review website questionnaire

The client completes the website questionnaire, Digital Giants reviews and asks any remaining questions.

Strategy session to build out the navigation/site map and brainstorm content, layout and design.

Asset-gathering: logos, fonts, colours, images, videos and written content. 
Design
Design phase, including page layouts, mockups and content placement.
Develop
Don't forget that crucial final step. You want people to see this beautiful website you've created for your business!
Final Thoughts
From website concept and strategy to design and implementation, we want to help you bring your vision to life on the Internet with the least amount of stress, on time and on budget.